My friend Alex and I made macarons for the first time! These were a long time coming. They are somewhat of a specialty in our town. I've read that they can be temperamental and hard to make, and the ultimate goal is for them to get "feet" while baking – that delicious little crust that the shell rises from.
We made three different flavours: Raspberry with raspberry buttercream filling, spice macarons with orange buttercream filing, and chocolate with chocolate ganache. Boy, it was a lot of work.

For the shells, we did a combination of these two base recipes:
http://www.waskochen.ch/letizias-gaumenfreuden/2009/10/11/macarons-wie-vom-profi-mit-rezept-und-geschenkschachtel/
http://www.eatlivetravelwrite.com/2012/03/why-do-my-macarons-have-hollow-shells-a-work-in-progress/
We only had coarsely ground almonds so first did all the work of grinding the almonds very finely and sifting them, and sifting them again with the powdered sugar. That was a pain in the butt! I will only ever bake macarons again if I can get almond flour that's fine enough.
We started with the chocolate shells first. We got a scare when incorporating the stiff egg whites with the almond/icing sugar mixture. The whole dough collapsed very quickly, we weren't sure what cause it. We thought we had ruined it, but it still behaved nicely. Those turned out to be the best macarons (consistency-wise).
The orange spice ones were next. Instead of just ginger, we also added cinnamon, nutmeg and cloves. A little spice went a long way!
Alex had picked out some freeze-dried raspberries out of her Kelloggs Special K cereal, which I thought was a brilliant idea. We ground those raspberries to a fine powder and added that to the shell mixture. It wasn't much and the baked shells had a very faint hint of raspberry. I would add more of them next time, if at all.
All three shell doughs were tricky to bake. The recipes state around 10 to 15 minutes. But the shells would still stick to the baking sheet after that time. We ended up baking them for much longer, but then they turned out way too crunchy. The chocolate shells, which were the most liquid ones, were way too chewy. However, they turned out most similar to the original Sprüngli after one or two days of rest in an airtight container in a cool place. The orange and pink shells had definitely baked for too long, and were hollow inside.
I would change two things about how we baked the shells:
Stir the egg white-almond-sugar mixture more
Bake less time and remove the shells immediately from the baking tray after taking out of the oven. We forgot to do that, and I suspect that they baking process continued on those hot trays.
Next came all the work of mixing buttercream and filling the little hamburgers. I used my go-to recipe for Italian Meringue Buttercream by Louise from Cakejournal. It's wonderfully stiff and you can add all kinds of yummy flavours to it.
Note on the raspberry filling: We thought it would be nice to add pureed fresh raspberries to the buttercream. Unfortunately, it's wintertime and those imported raspberries had absolutely no taste whatsoever. So we ended up mixing in raspberry preserves, which we sifted to remove the seeds. After that, the buttercream was much better!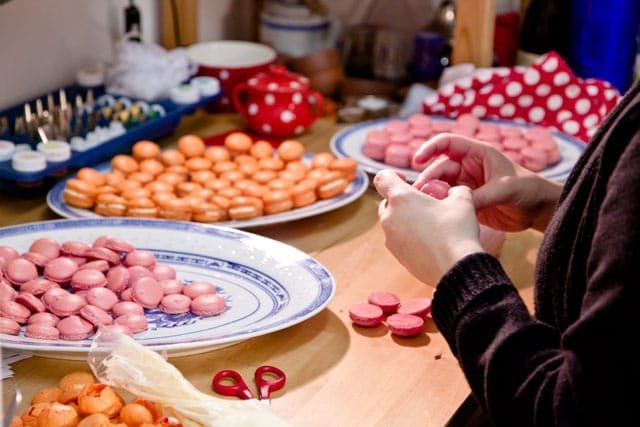 I found this adorable little box template to print and cut out and glue together. It's big enough for three macarons:
We spent all day on the macarons and I can definitely say the were a labour of love (as well as sweat and blood!). Taste-wise, the macarons were fantastic and everyone who tried them loved them.
I would definitely make them again – on request!