Tomorrow it's mother's day in Switzerland! Surprise your mom with these gorgeous raspberry cheesecake cupcakes. They are sweet and tangy and just the right size for a treat!
I originally found this gorgeous idea from Martha Stewart. This recipe is different though: For the cheesecake filling, I learned a great trick from my student and fellow baker Karolin: She adds sour cream to make it extra creamy. Thank you Karolin!
You can easily make them 1-2 days in advance, or even freeze them. Your mom is going to love these!
How to make perfect raspberry cheesecake cupcakes:
Note: In the video I'm only using two eggs because I prefer the taste, but you may use three eggs for a fuller cheesecake.
Print the recipe:

Raspberry cheesecake cupcakes
Zutaten
180 g graham crackers, or other crunchy caramel cookie
120 g (1/2 cup) raspberry puree
100 g (1/2 cup) sugar
1 tbsp flour
300 g cream cheese
1 tsp grated lemon zest
1 tsp lemon juice
3 large eggs
300 g sour cream, or Crème fraîche
1 tsp vanilla extract
250 g fresh raspberries
mint leaves, for decoration
Directions
Preheat your oven to 150 C (300 F) and place cupcake liners in your baking pan. Weigh all your ingredients.
For the crust: Grind the cookies in a food processor, or using a ziplock bag and a large rolling pin. Place a tablespoon of crumbs into each liner and press it with a glass. Bake for 5 minutes and let cool.
In the meantime, make the raspberry puree, strain it and let it cool.
For the cheesecake filling: In a mixer bowl, combine the sugar and flour. Add the cream cheese, lemon zest and lemon juice and mix until just combined.
Add the eggs one at a time.
Add the sour cream and vanilla and stir gently by hand, until just combined.
With the help of an ice cream scoop, fill the paper liners with the cheesecake filling.
Add two or more drops of raspberry puree to each cupcake. Drag a toothpick through the drops to create hearts, flowers or swirls.
Bake for 20-25 Minutes, leave to cool and then chill in the refrigerator for 4 hours at least, or overnight.
Serve topped with fresh raspberries and mint leaves.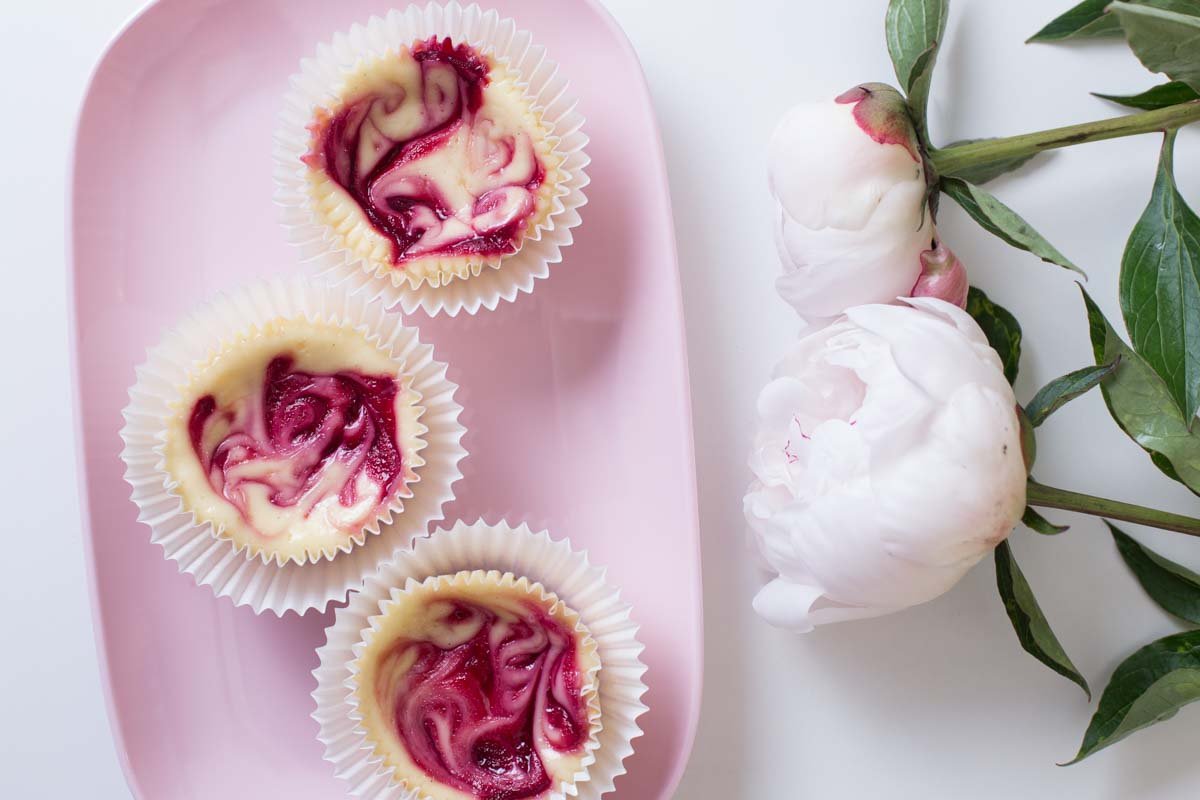 Let me know in the comments how it goes, and what your mama said!
Love and happy baking,
Xuân-Minh