Making great vanilla cupcakes isn't easy!
When I first started baking, I tested several light vanilla recipes and was disappointed by most of them. The most common issues were:
Dry cake
Boring flavor
Nice flavor, but sunk in the middle and sticky
The liners peeled away from the cakes
The liners stuck so much to the cake that they were almost impossible to remove
I often experience this with baked goods: The ones that taste best, are usually the ugliest or they are so soft that it's difficult to use them for further decorating.
The reason? The best flavor comes from using sugar and butter. But the higher the sugar and fat content of a cupcake, the softer the end product. Figuring out the right quantities has been a challenge. That's when I discovered vegetable oil as a great subsitute. I started baking all cupcakes with oil, and have never looked back!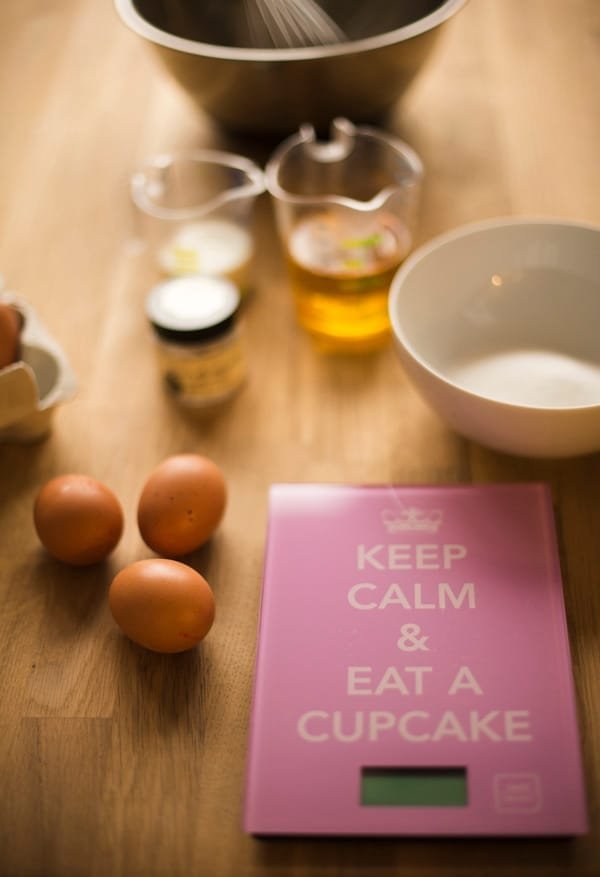 Today I have for you a great recipe for vanilla cupcakes that look and taste great. They are quick to bake and easy to decorate. The oil makes them moist and juicy, but not sticky.
Everything starts with a good "mise en place":
Line your baking tin with cupcakes liners
Preheat your oven
Weigh all ingredients and have them ready at hand.
Let's begin!
How to make vanilla cupcakes
Place sugar, eggs and vanilla in a mixing bowl.
Beat with a whisk until frothy, about 2 minutes.
Add oil and milk, stir well.
Combine flour, salt and baking powder in a separate bowl.
Lastly, sift in the flour and baking powder. Not too much at a time, stir well but not too long.
One level ice cream scoop is the perfect quantity of batter for one cupcake:
Bake for 20 minutes! And leave to cool on a wire rack.
Here's the recipe for you:
Vanilla Cupcakes
Ingredients
140 g (2/3 cup) sugar
3 eggs
1-2 tsp vanilla extract
130 g (2/3 cups) vegetable oil (rapeseed oil, sunflower oil, coconut oil)
60 ml (1/4 cup) milk
140 g (1 cup + 1 tbsp) flour
3 tsp baking powder
1/2 tsp salt
Directions
Preheat oven to 170 C (350 F). Line the baking pan with the cupcake liners of your choice. Measure all ingredients.
Beat sugar, eggs, and vanilla until frothy (about 2 minutes).
Add vegetable oil and milk, stir well.
In a separate bowl, combine the flour, baking powder and salt. Sift this to the batter, stirring slowly but not for too long.
Fill your cupcake liners with batter, using an ice cream scoop. Bake immediately for 20-22 minutes, or until a skewer comes out clean. After taking out of the oven, remove the cupcakes immediately from the pan and let them cool on a wire rack or on the counter.
Decorate the vanilla cupcakes as you please – for example with Swiss Meringue buttercream.

Instead of oil, melted butter may be used.
Will you leave a comment when you bake these cupcakes? I'd love to hear from you!
Happy Baking!
Love,