Last week we had our Drip Cake class here at the studio. This post is dedicated to this most wonderful of ingredients – liquid chocolate or drip ganache!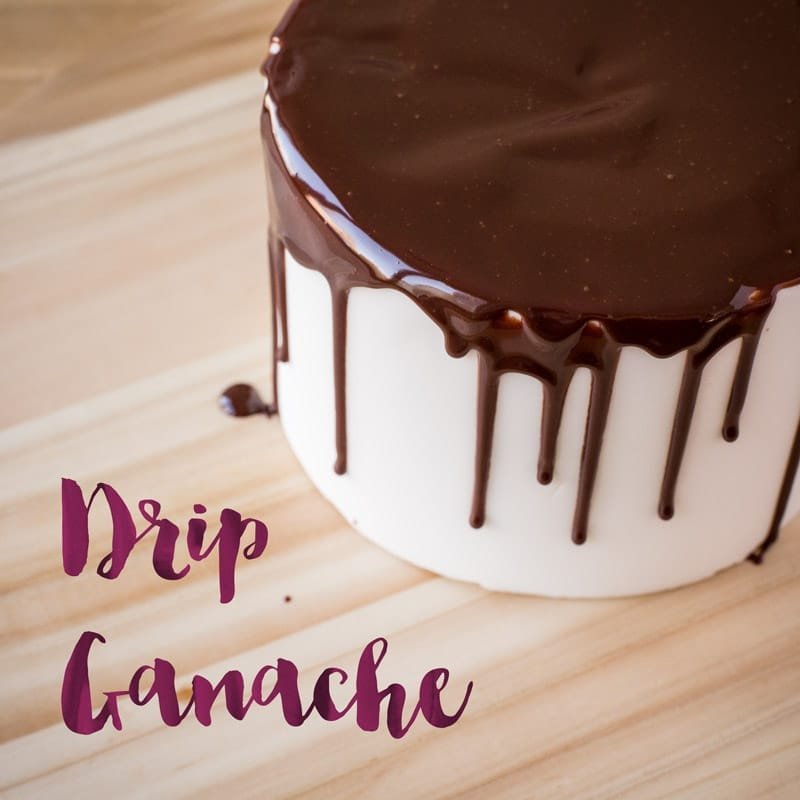 There are many different recipes for ganache. The proportions of chocolate to cream can vary, depending on the use. Some recipes use heavy cream or butter, or both!
For drip ganache, you need equal amounts of semi sweet chocolate and cream (a ratio of 1:1). Optional: You can add a tablespoon of corn syrup or glucose for a nice shine!
The cream is heated until just below the boiling point, then poured over the chocolate and stirred, until the consistency is smooth. Then the syrup is added, if using.
The drip ganache mixture then has to rest for about 1-2 hours, until it has thickened slightly and flows from your spatula in broad ribbons:
Then you can begin dripping! There are several techniques, but I like using a spoon best for maximum control for the sides – and then filling up the top of the cake with an angled spatula.
Here's a video for you:
Very important: The cake should be chilled thoroughly underneath, so that the chocolate sets fast. Otherwise, your chocolate will just flow off the sides of the cake and make great puddles on the bottom.
You can drip ganache on fondant, buttercream, hardened ganache, meringue – whatever you like, the main thing is that is must be cold!
Here's the recipe for you to print and use:
Drip ganache (truffle ganache)
Ingredients
250g / 1 cup heavy cream
250g semi sweet chocolate, chopped
1 tablespoon glucose or light corn syrup
Preparation
Place the chocolate pieces in a large bowl.
Pour the cream into a saucepan and heat it on medium-high. Careful of the overflow if you let it boil inadvertently! Just before it starts boiling, remove from the heat.
Pour the cream over the chocolate and let it rest for 1 minute.
Stir the mixture gently. A silicone spatula is best. We want to try incorporating as little air as possible into the chocolate. You can use a stick blender, leaving it at the bottom of the bowl, without going up and down.
Stir in the syrup, if using.
Leave the drip ganache to rest for about 1-2 hours, until it has thickened slightly and flows from your spatula in broad ribbons.
Start dripping!
You can drip cakes, cupcakes, ice cream, cake pops and more. If you leave the chocolate to harden even more, you can then use it to make truffles. Roll them into balls and dip them in cocoa powder. I'm sure you can come up with more uses!
Enjoy – please leave questions and comments below!
Happy dripping!
Love,

.
.
.
.
.
P.S.
Would you like to learn to bake a decorate a drip cake from scratch? We have a class just for that: Drip Cake Tageskurs ( in German for now): With baking, making meringue kisses, meringue filling, chocolate towers and more!